Page 5 of 8
EXPORT SECTOR (PACKAGING & EXPORT)
---
THE MAIN ACTIVITY OF DARB FOR TRADING & REFRIGERATION CO IS THE PROCESSING AND PACKAGING OF JORDANIAN AGRICULTURAL PRODUCTS FROM VEGETABLES AND FRUITS TO EXPORT TO MOST ARAB COUNTRIES. IT HAS A DISTINGUISHED PERCENTAGE OF EXPORT SALES TO THE UNITED ARAB EMIRATES, SAUDI ARABIA, OMAN, QATAR, IRAQ, AND KUWAIT.
SALES RECORD: LOOKING AT LOCAL, EXPORT SALES OVER THE LAST FIVE YEARS, THE FOLLOWING INFORMATION IS SHOWN IN JOD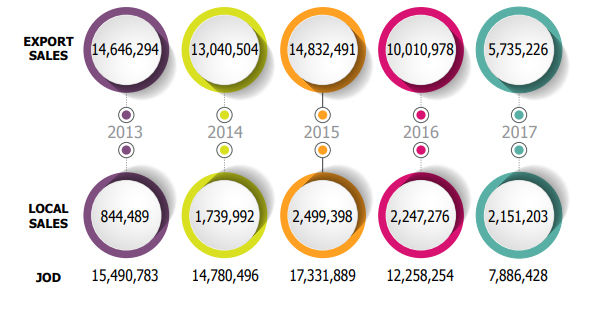 COMMUNITY SUPPORT
DARB FOR TRADING & REFRIGERATION CO SUPPORT THE AGRICULTURAL SECTOR IN JORDAN THROUGH THE CONTRACTS WITH FARMERS TO REACH DISTINCT VARIETIES OF CROPS, AND FOLLOW UP WITH THEM IN THE CARE OF THEIR CROPS, AND THEIR STEADFASTNESS ON THEIR LAND, EVEN BEFORE WE GET WHAT IS PRODUCED BY THEIR LAND, HELP THEM AFTER HARVEST TO EXPORT CROP ABROAD AFTER RE-PACKAGING AND PACKAGING BY US AS APPROPRIATE.
DARB FOR TRADING & REFRIGERATION CO ALSO SUPPORTS THE JORDANIAN CITIZEN THROUGH THE OPERATION OF ALL PRODUCTION LINES, WHETHER IN PACKING, PACKING, LOADING OR TRANSPORTING THROUGH JORDANIAN LABOR, WHETHER MALE OR FEMALE, THUS CONTRIBUTING TO THE ECONOMY IN A PRACTICAL AND EFFECTIVE MANNER.
QUALITY STANDARDS
DARB FOR TRADING & REFRIGERATION CO HAS A SPECIALIZED DEPARTMENT FOR QUALITY. NO PRODUCT IS ACCEPTED UNLESS IT HAS BEEN INSPECTED BY SPECIALISTS. SAMPLES OF PRODUCTS ARE SENT TO CERTIFIED LABORATORIES TO VERIFY THE SAFETY OF THE PRODUCT COMPONENTS AND FREE OF RESIDUES.
WE APPLY THE BEST STANDARDS IN THE SORTING, PACKAGING, AND COOLING OF AGRICULTURAL PRODUCTS
WE APPLY THE BEST STANDARDS IN REFRIGERATION PRODUCTS ACCORDING TO THE BEST TEMPERATURE APPROVED FOR EACH CATEGORY.
WE ADOPT THE BEST MODES OF TRANSPORT AND LOGISTICS FOR OUR EXPORTS AND CUSTOMERS.